Best Home Office Coffee Machines
Photo by Nathan Dumlao on Unsplash
Looking for a good coffee maker for your home office?
What are the Best Coffee Machines for your home office?
– The Illy X7.1
– Nespresso Essenza Mini Coffee Machine
– SharkNinja Hot and Cold Brew System
– KRUPS Grind
– Classic Bialetti Moka Pot
---
With coffee being the lifeblood of so many offices it has come to our attention that quite a few of us are now missing that great machine that some of our offices used to have. With most of us working from home now, we understand how this has put a damper on all of our coffee dreams. Fear not, as with all things lately we must be prepared to adapt to change and bringing the office home is no exception. We understand that different people enjoy different types of coffee but we did our best to get you something that works for you. We have committed time and effort to our research and personal experiences to come up with a list of great coffee machines that would complete your home office situation and have you starting your day off right.
---
1. The Illy X7.1
The Illy X7.1: The Illy X7.1 is one of the sharpest looking machines on our list while still delivering a full bodied espresso with every cup. The machine is compact with easy to use features and a Pannarello steam wand that easily froths milk for cappuccinos and lattes. No matter how you like to start your days the Illy X7.1 is a safe bet for a consistently great coffee. (~$325 CAD)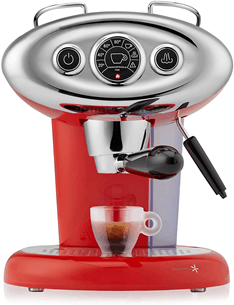 2. Nespresso Essenza Mini Coffee Machine
For all of you who love the capsule/pod machines we've got you covered. There are a lot to choose from but the Nespresso Essenza Mini Coffee Machine really fits the bill in terms of having a home office friendly machine. It is small and compact which makes it a fantastic space saver to easily fit where you need it. It also requires almost zero effort to make and it will consistently make a coffee you are familiar with. Better yet, with the pods, you can mix things up depending on what you feel for on a daily basis. (~ $179 CAD)
(Source: Amazon.ca)
3. SharkNinja Hot and Cold Brew System
Easily the most versatile coffee maker on our list the SharkNinja Hot and Cold Brew System really offers a wide array of coffee and tea options. It has 6 different brew sizes and as the name suggests it can do excellent hot or cold brewed coffee and tea. The machine has separate baskets for tea and coffee, a frother and has the ability to make specialty drinks making it incredibly versatile and able to cure any of your different cravings.(~ $257 CAD)
(Source: Amazon.ca)
4. KRUPS Grind
If you're looking for something with a coffee grinder built-in, then the KRUPS Grind and Brew Coffee Maker is your best bet. This machine makes freshly ground coffee that really gets you the freshest tasting coffee possible. Filtered coffee has that tendency of being just right but imagine having even more flavour come through because of the ground beans. It also has a 10 cup capacity and comes with a brew strength selector for those who like to customize their coffee. It also has easy maintenance and a great filter that's easy to clean making this a very good all-around coffee maker. (~$244 CAD)
(Source: Amazon.ca)
5. Classic Bialetti Moka Pot
Nothing reminds me more of Sunday mornings at my nonnas than the classic Bialetti Moka Pot. A Italian household staple, this little handy machine is a personal favorite of mine. It is designed to make espresso as the name would suggest but is actually very easy to use and will produce a good coffee every time. It is meant to be used on stove tops but will work on electric stoves just fine. Its ease of use yet still provides a robust flavor with every cup. Pro tip: If you have extra, pour the leftovers in a glass bottle and seal it in the fridge for some iced espresso the following days. (Dont let it sit for too long however!) (~$40 CAD)
(Source Amazon.ca)
Related articles:
Disclaimer: The article include amazon affiliate links, linking to amazon.ca.
Disclaimer: Articles is based on personal research and experiences.
https://montrealtips.com/wp-content/uploads/2020/12/coffee-machine.jpg
1080
1692
T Riman
https://montrealtips.com/wp-content/uploads/2021/06/Screen-Shot-2021-06-02-at-9.14.51-AM-1.png
T Riman
2020-12-03 07:29:34
2020-12-03 07:54:12
Best Home Office Coffee Machines