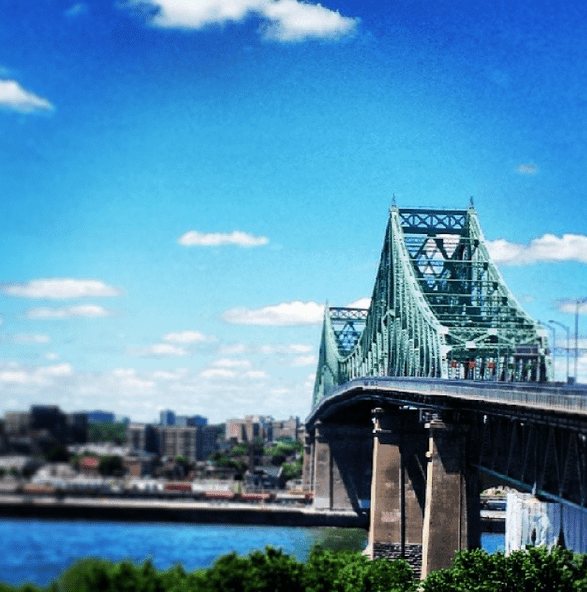 This year, from June 28 to August 02, thousands gather to watch the Montreal International Firework Competition featuring nine countries.  See http://internationaldesfeuxloto-quebec.com/fr/ for the schedule and come support your country!
Here are some best places all over the city to enjoy the fireworks lighting up the skies.
1.LaRonde
The best place to see the firework up-close (although a bit more expensive) is LaRonde amusement park! For around 67.75$ you get a place to sit and enjoy the fireworks choreographed with music happening right over the lake. With this you also get a one day access to the rides! So if you want to enjoy the rides during the day and end the night with a good show reserve your ticket now!
2. Jacques Cartier Bridge
One of the most popular places the watch the fireworks for free is the Jacques Cartier Bridge accessible from either Papineau area, Ile Ste Helene or Longueil. It is closed off the traffic from 8:30 pm onwards until 11:30pm and is only accessible to pedestrians (so no bicycle allowed). The views you get is quite impressive and on top of that you can bring food and drinks! So get your foldable chair or beach towel and reserve your spot early because it's going to get crowded!!!
3. Clock Tower Beach (Old Port)
Feet in the sand, lights in the skies and cocktail in hand …what else can you ask for? But beware there is limited space available and it gets quite crowded, so if this is what you are aiming for, be there at least a few hours in advance.
4. Terrasse sur l'Auberge (Old Port)
Having a view of the fireworks while sipping a drink or glass of wine from one of the best terrace in Montreal? Why not! Access is free but the purchase of a drink is required. Terrasse sur l'Auberge also offers tappas and a variety of appetisers. Book a week in advance to get the best spots on the terrasse!
5. Kondiaronk Belvedere Mont-Royal
Enjoy the fireworks with the view of the city in the background. This is probably one of the best places to set your camera and shoot some of the most amazing pictures of Montreal and the picturesque fireworks. A bit harder to access it; but definitely worth the climb up to Mont-Royal.
Sources:
www.jpdl.com
www.ixdaily.com
Picture source: http://www.mtlblog.com/2014/01/the-best-montreal-instagram-pictures-vol-16/
https://montrealtips.com/wp-content/uploads/2015/10/jack-cartier-bike-ride-montreal.png
592
587
T Riman
https://montrealtips.com/wp-content/uploads/2021/06/Screen-Shot-2021-06-02-at-9.14.51-AM-1.png
T Riman
2014-06-29 15:45:10
2017-02-14 04:43:02
Best places to watch Fireworks in the Summer | Where to watch the Montreal Fireworks